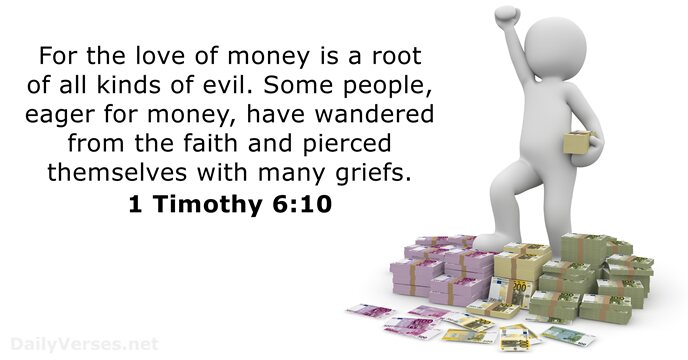 By Benjamin H. Liles
"Then Jesus said to His disciples, 'Therefore I tell you, do not worry about your life, what you will eat, or about your body, what you will wear...For where your treasure is, there your heart will be also'" (Luke 12:22-34, Berean Study).
Sometimes I have to examine myself and my heart. I say that because there are times I do get tired and I wonder, "What is this ministry worth? Is it worth doing this when I don't see any visible return from it? What is my motivation?" It's a sobering thought, truly. Where do Ben's affections reside: with God or with acquiring wealth? When I started out in doing this I knew I was fulfilling a calling God gave to me. He was showing me this grand thing He wanted to do and He had shown me He wanted me to be a part of His plans.
When we read the words, "Where there is no vision, the people perish: but he that keeps the law, happy is he" (Proverbs 29:18, King James). Okay, so the wording in the King James is somewhat archaic in nature, but it seems the concern is about seeing the big picture. It has to do with keeping and obeying the word of God active and sharp in your life. The New American Standard puts it this this: "Where there is no vision, the people are unrestrained, but happy is he who keeps the law" (Proverbs 29:18).
If we also read God's word about forsaking all others for Him we end up reading, "In the same way, any one of you who does not give up everything he has cannot be My disciple" (Luke 14:33, Berean Study). Who is your first love, in other words? What moves you to doing something? What gets you up in the morning and makes your heart beat faster than anything else in this world? If your first answer is God then you are on the right track. But if you answer, "Money," here are some sobering verses for you:
"The one who works his land will have plenty of food, but whoever chases fantasies lacks sense" (Proverbs 12:11, Holman Christian Standard).
"A hard worker has plenty of food, but a person who chases fantasies ends up in poverty" (Proverbs 28:19, New Living Translation).
"No one can serve two masters, for either he will hate one and love the other, or he will be devoted to the one and despise the other. You cannot serve God and money" (Luke 16:13).
"But those who desire to be rich fall into temptation, into a snare, into many senseless and harmful desires that plunge people into ruin and destruction. For the love of money is a root of all kinds of evils. It is through this craving that some have wandered away from the faith and pierced themselves with many pangs" (1 Timothy 6:9-10).
I'm not writing all of this to dissuade anybody to not pursue after taking care of one's home and livelihood. But we need to learn who cares for what. Let me back track to this point: does money love you enough to take care of things for you, or is that something God does? Isn't it God who saves the soul and thus taking care of all your need? What is there truly to worry about if God is handling your concerns? That's the real bottom-line here. If you are worried about your finances, stop that. If for some reason you have lack it may be due to the fact you have over spent. We are told repeatedly in scripture to "tend to one's business" in other words (see Proverbs 12:11 and Proverbs 28:19).
Worrying over finances, over those things you cannot control, and possibly even overspending leads many people to sleepless nights, causing aging to speed up. Other health problems can soon arise and cause havoc on your marriage, it can cause you to misstep with God, and cause other relationships to suffer as well. How about we take this step back, for a moment and allow Christ's words to reach us: "Therefore I tell you, do not worry about your life, what you will eat or drink; or about your body, what you will wear. Is not life more than food, and the body more than clothes? Therefore do not worry about tomorrow, for tomorrow will worry about itself. Today has enough trouble of its own" (Matthew 6:25-34, Berean Study).
As it turns out those who you think you have been helping, thinking you've been doing God's will, but are confiding in the wrong people can some times lead you astray from the One who saved your soul from damnation and hell. Come back to God! Return to the One who saved you from death and sin! If you are worried about your lack, allow God to be your Provider. After all, if He sent His Son Jesus Christ to take your sins on the cross, can He also not care about your other needs as well? Is it not written, "I know every bird of the mountains, and everything that moves in the field is Mine?" (Psalm 50:11).
Beloved, you were bought and ransomed from sin and death at a high price. He knows your needs far better than you know your own needs. Stop struggling for a moment and allow God to be your buoy in the middle of this storm. Return to your first love, who is God. Be like the Prodigal who once he realized he sinned against his Father raced home to throw himself into his father's arms. Did not the Father offer up a sacrifice for his once dead child? He did! And Christ has done the same on your behalf. Switch back your allegiance to Christ, who gave Himself up for you, redeeming you from wickedness. I pray this helps you this day. I pray all of this in Jesus Christ's holy and saving grace over you. Amen.