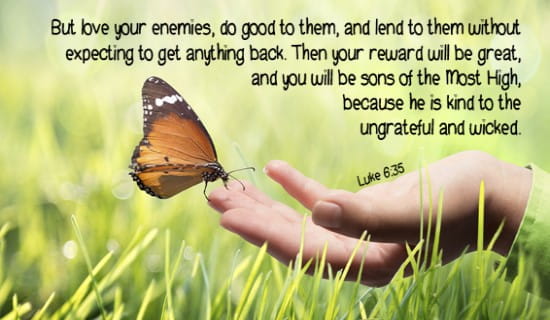 By Benjamin H. Liles
I ask the Father in his great glory to give you the power to be strong inwardly through his Spirit.
I pray that Christ will live in your hearts by faith and that your life will be strong in love and be built on love.
And I pray that you and all God's holy people--His saints--will have the power to understand the greatness of Christ's love—how wide and how long and how high and how deep that love is.
Christ's love is greater than anyone can ever know, but I pray that you will be able to know that love. Then you can be filled with the fullness of God.
~ Ephesians 3:16-19, Expanded
Two other verses come to mind as to what Paul is saying, and he wrote these words as well: "Love must be sincere. Hate what is evil; cling to what is good. Love does no harm to a neighbor. Therefore love is the fulfillment of the law" (Romans 12:9, 13:10). How do we respond to the hurts and needs of society around us? Truly, I say that if we honestly love others we'll see beyond our own measure and worth.
Tanya, my wife, makes all of our meals. Whether I treat her well or not, she always puts me ahead of herself. If that's not indicative of what Christ does for us I don't know what is. I learn so much from watching my wife; her faith, her strength in Christ compels me in all ways to keep on, even when I hurt. I'm not the best man who has lived. That honor and title and glory belongs to Jesus Christ alone. The second in command I can think of who comes close is Solomon.
Yesterday I wrote, " I also want to add on that most times that people fight has to do with pride. We can say, along with Solomon, "Pride comes before destruction, and an arrogant spirit before a fall" (Proverbs 16:18, Holman Christian Standard)" (my article
Dealing with Anger
). I almost always feel I'm angry all the time. As of last night's row and how I feel, which is depressed, I don't truly feel I am the best candidate to talk about Christ's immeasurable love. I don't truly believe I belong to Him.
I am compelled in and by His love, not just to me, not just to my wife--who always has believed in me--but also to you to show "how wide and how long and how high and how deep [His] love is." Is there anything too high for God to deal with? Is your sin as tall as Everest He can't just blow it all away? How about how deep and wide you have hurt others? Is God so small He can't bury it more than four hundred miles (643,738 meters) under the earth?
Paul is saying, basically, "Christ may dwell in your hearts through faith, that your life be rooted and grounded in love" (Ephesians 3:17, New King James). What does it mean to be rooted and grounded? Bryan Jay, who wrote the article
Ephesians 3:14-21 Rooted and grounded in love
, tells us:
"Paul brings in the concept of Christ's love as an aside, but it quickly becomes the centerpiece of his prayer. Notice how he moves from the idea of 'Christ dwelling in our hearts' to the state of 'being rooted and grounded in love.' Is there a connection here? It is almost as if Paul assumes that it is obvious that the experience we have of Christ through the indwelling Holy Spirit is an experience of his
love
...It is one thing to
hear
that Jesus loves you. It is quite another thing to
experience
that love first-hand! This is what Paul desires for his brothers and sisters in Ephesus--an experience of God's love through the indwelling Holy Spirit."
I believe I will always believe and feel I am unworthy of God's love towards me. No matter how far I run, just by simply turning around and saying to Him, as well to those I hurt, "I'm truthfully sorry for sinning against you," He is always willing and wonderfully ready to forgive the sins I have done. There's nothing hard for Him to do. No river, sea, ocean, or lake too wide for Him. There's no mountain too tall. There's no trench too deep. His love will never fail. This I believe with all my heart. At the same time He doesn't accept my sin as they are. He shows me how to be more like Him.
It is always up to me, how I respond to Him, how I see my sin, how much I am over it and allow it to be put to death through what Jesus Christ did at the cross on my behalf. Sin and death were put to shame on the cross. It has been judged and rendered void. I can say alongside Paul, "I have been crucified with Christ, and I no longer live, but Christ lives in me. The life I live in the body, I live by faith in the Son of God, who loved me and gave Himself up for me" (Galatians 2:20, Berean Study). It is my hope and prayer this encourages you to live life for Christ. That He be your rock and sure foundation.
Father, You know the attitude of my mind and heart far better than I do. I hate how I acted last night when my wife wanted to clean the mess our cat, Allie, accidentally made. I had no right getting mad for her late cleaning. I just want to be respectful of others. But my act of getting mad at my wife contradicts my level of respect for others. I dishonored You in the same process. I thank You, Lord, for forgiving my sins. I know You have pardoned me. But it doesn't give me the right to keep acting out in anger. I need Your power and indwelling Spirit in my life to show my love and honor to and for You. Please, fulfill this deep longing and help with and in me. I pray this in Jesus' name. Amen.