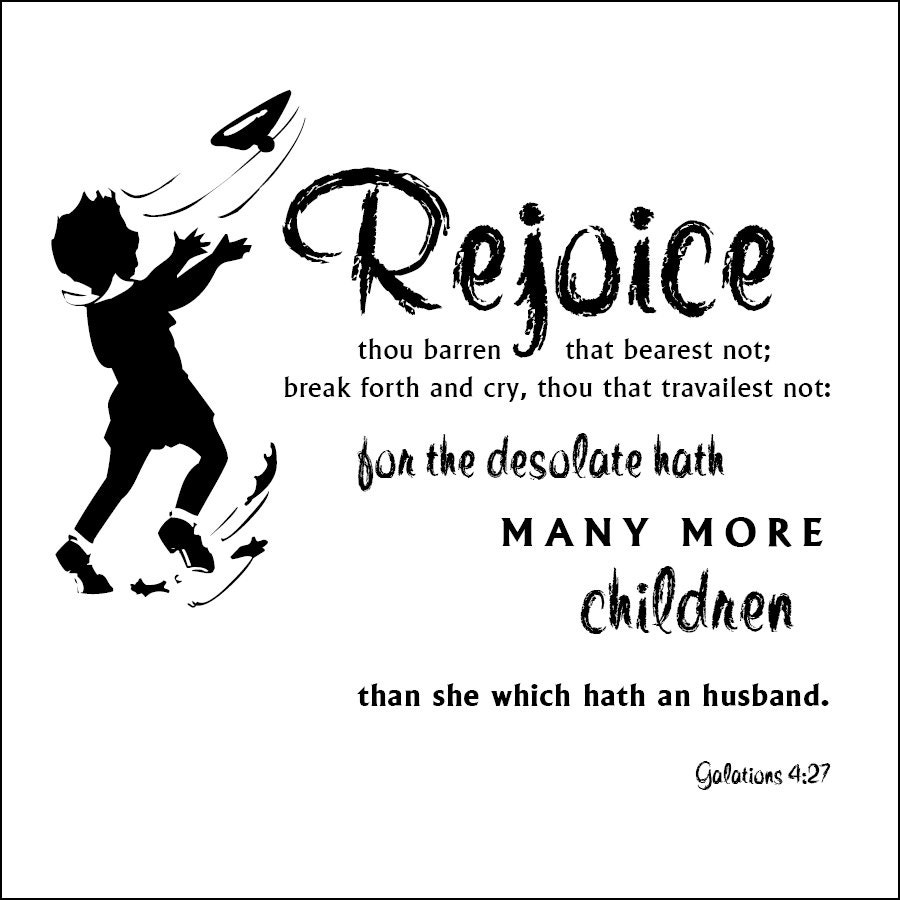 By Benjamin H. Liles
For it is written: "Be glad, barren woman, you who never bore a child; shout for joy and cry aloud, you who were never in labor; because more are the children of the desolate woman than of her who has a husband." ~ Galatians 4:27, Paul quotes Isaiah 54:1, New International Version.
I can't think of any reason why Sarah would rejoice. She was barren late in life, and yet she had believed God's promise that He would give her a son. We read, "
By faith Sarah herself also received strength to conceive seed, and she bore a child

when she was past the age, because she judged Him faithful who had promised
" (Hebrews 11:11, New King James). If we take a look at what Paul is saying, we'd understand that the singular is being used. "Now the promises were spoken
to Abraham and to his seed. He does not say, "And to seeds," as
referring
to many, but
rather
to one, "
And to your seed," that is, Christ" (Galatians 3:16, New American Standard).
You see, the promise given to Abraham and Sarah was that they would bear a child late in their ages, Sarah being barren at the age of ninety. And yet God makes them the promise they will have a son. They end up naming him Isaac, meaning laughter. Why that name? "Now Abraham and Sarah were old, advanced in age; Sarah was past childbearing. Sarah laughed to herself, saying, "After I have become old, shall I have pleasure, my lord being old also?" (Genesis 18:11-12, New American Standard). There are a few pastors, not many, who say Sarah did this in unbelief. I contend she did so in faith.
The reason I believe Sarah laughed at the Lord's promise of her having a child past way past that age is due to the fact it overjoyed her. "After I have become old, shall I have pleasure, my lord being old also?" (Genesis 18:12). She talks about the pleasure of not just being a mother, but in having the joy of becoming one. If we go back a moment and look at how she was treated by Hagar after she had Ishmael, Sarah was treated differently for not ever having given birth to a child. When a woman wasn't able to conceive others looked down on her. And that's what Hagar did to Sarah (see Genesis 16:4-5).
Beside this those who believe in the Son of promise, who came from the seed of Isaac and Jacob as well is Jesus Christ. He is the actual heir of promise. Consider this, Jesus said, "Do not think that I have come to abolish the Law or the Prophets; I have not come to abolish them, but to fulfill them. For I tell you truly, until heaven and earth pass away, not a single jot, not a stroke of a pen, will disappear from the Law until everything is accomplished" (Matthew 5:17-18, Berean Study). This means then that the promise God gave to Abraham and Sarah wasn't just the promise of a son, Isaac, but that another Son of promise would be given, who would bless the world.
Yesterday, when I wrote the article
Why the Gospel didn't remain in Israel
, I wrote, "No, rather scriptures foretell of One who would succeed David as being greater. We see His genealogy spelled out in both Matthew and Luke's accounts. His name is Jesus Christ of Nazareth." And yes, you can find extra links within that article showing how Jesus fulfilled the word of the Father, God. In fact, John wrote, "
In the beginning was the Word, and the Word was with God, and the Word was God.
He was in the beginning with God.
All things came into being through Him, and apart from Him nothing came into being that has come into being.
In Him was life, and the life was the Light of men" (John 1:1-4, New American Standard).
As much as I can, whether it's every day or every couple of days I always do my best to give an explanation for the hope I have. Peter tells us, "
But sanctify the Lord God in your hearts; and always be ready to give an answer to everyone who asks you a reason concerning the hope that is in you, with humility and fear: having a good conscience; that, while you are spoken against as evildoers, they may be disappointed who curse your good way of life in Christ" (1 Peter 3:15-16, World English). I know it means I am an apologist, always giving my reason for my faith. Being one isn't a concern of mine in regards of whether it's said in a good light or bad. I truly enjoy explaining God's word to everyone. I find it's a great relief doing so.
I ask that in terms of reading what I write that you, the reader, take a moment to check and make sure everything I say is correct. I would rather teach the right way than the wrong. Jesus came so we could have life and have it to the fullest. He came so our sins could be removed from us. It means we would love Him far more than our sins and the actions we lived with. It means trading a life of bitter selfishness for a life of joy and peace in Christ Jesus. As He said, "Come to Me, all you who are weary and burdened, and I will give you rest. Take My yoke upon you and learn from Me; for I am gentle and humble in heart, and you will find rest for your souls. For My yoke is easy and My burden is light" (Matthew 11:28-30, Berean Study).
Father, as the day begins I find having spent time with You in preparing this message of hope I feel amazingly blessed. To me this is You having given me my daily bread. You sustain me with Your word. And in that I offer You my sincerest of praises. You alone are King, Almighty, Just and Holy. I do not fear coming before You as I know You and Your word wash me clean. It is the shed blood of Jesus Christ that makes me righteous and able to stand before You. It also means I can walk away from a sinful life and life a holy and pleasing life in You. Father, I ask You to show Yourself to those who so desperately need You. Show them the light of Your love and truth. I pray on behalf of others who don't know how to pray to You for their needs. You know those needs. Fulfill Your word in their lives. I ask this in Jesus' name. Amen.