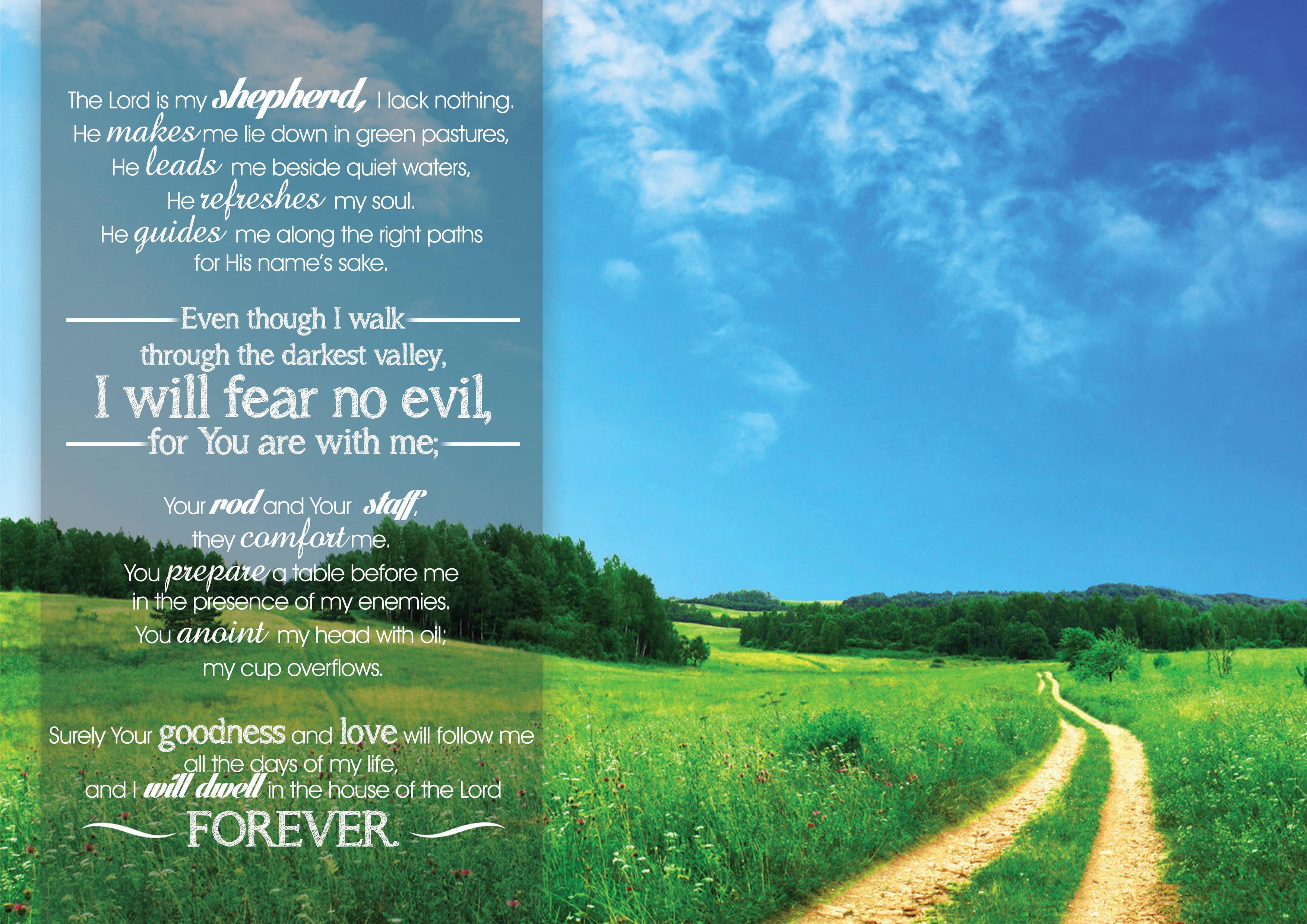 By Benjamin H. Liles
The
Lord
is my shepherd;
I have everything I need.
He lets me rest in green pastures.
He leads me to calm water.
He gives me new strength. He leads me on paths that are right f
or the good of his name.
Even if I walk through a very dark valley,
I will not be afraid,
because you are with me.
Your rod and your shepherd's staff comfort me.
You prepare a meal for me
in front of my enemies.
You pour oil of blessing on my head;
you fill my cup to overflowing.
Surely your goodness and love will be with me
all my life,
and I will live in the house of the
Lord
forever. ~ Psalm 23:1-6, Expanded Bible.
I have to admit I love how David praises God here. He tells us, "[God] renews my soul. He leads me on straight paths for His name's reputation." What is God's favor in the life of a believer but a showcase of God's glory in the life of that man or woman or even in the life of a child? If He doesn't display His majestic splendor in the life of those who fear Him, then what is His reputation worth?
We're told many times throughout God's word of the deeds He has worked on behalf of His people, those whom He brought out of Egypt. David also goes on to say this, "You prepare a table for me in the presence of my enemies. You anoint my head with oil; you cause my cup to overflow" (23:5). Surely God's great name is a means of blessing to those who keep and walk in His ways. It's His way of blessing us when we keep Him and His statutes.
What are those ways? Christ tells us plainly, in the gospel record, "'Love the Lord your God with all your heart and with all your soul and with all your mind.' This is the first and greatest commandment. And the second is like it: 'Love your neighbor as yourself'" (Matthew 22:37-39, Berean Study). His reputation is at stake and He blesses us when we choose to bless others in His name. We do it by how we love others.
David chose to bless Saul even though time and again Saul chose to persecute David for taking a stand in God. Saul forsook God and went his own way, not God. Saul chose to disobey the word of God, not David. Even though David sinned later in his life toward God and man, he still had a deep and persevering love toward God. It's why we're told of David: "After removing [Saul], He raised up David as their king and testified about him: 'I have found David the son of Jesse, a man loyal to Me, who will carry out all My will" (Acts 13:22, Holman Christian Standard).
We all go through trying times. Times where it seems all Hell breaks loose and nothing goes right. In those stormy moments where it seems lightning crackles around us, flood gates open up daring to destroy us, He's there in the waves of the storm telling the waves, "Quiet! Be still!" (Mark 3:39, Expanded). Where do we look in those times? Do we look to God for the support, for His glory? Or rather do we look to our own ways?
I can tell you how many times in my life God wanted to show me Him and His ways. In all those times, both good and bad, He wanted to bless me. Each and every time I would spurn Him and go my own way. Yet, still in His greatness and sovereignty He remained patient with and toward me. He knows far better than I about how to bless me as well as others. It's His way of telling us He wants to be our joy, our comfort, our peace. But it's up to us to choose Him and His ways. It's like scripture says, "For My thoughts are not your thoughts, Nor are your ways My ways" (Isaiah 55:8, New American Standard).
The truth of the matter is God has done His part. Do we want His truth to be known or do we suppress it as well as His righteousness? We know Him and have beheld His glory. It is seen at the cross. Jesus went there, not by His own will, but by the will of the Father, God. Hours before his crucifixion and death He cried in the garden of Gethsemane, "Not my will but your will be done!" (Luke 22:42). His name is great for the things He has done for us. Our part is to lay down our selfishness, our self desires, it is to come to Him, crying out, "Make Your name great! Forgive me, a sinner!" He can and will do it because it's His reputation at stake, not ours.
It is why we read this: "For My name will be great among the nations, from the rising of the sun to its setting. Incense and pure offerings will be presented in My name in every place because My name will be great among the nations" (Malachi 1:11, Holman Christian Standard). We can have a firm and lasting hope in the God of the nations, of Israel. He not only chose the nails, but He chose us, to love us enough to become man, to experience life as we live it. He died in our place so we wouldn't have to taste separation from Him. Hell isn't for us. It's for powers, principalities, for those who rebel against Him and His authority. Allow His name to be great. Allow Him to be your portion, your prize. Let Him be your "exceedingly great reward" (Genesis 15:1).
Father, You alone are worthy for the works You do. You are great, holy, and almighty. I am not. I admit to You, Lord, I am nothing but a sinner in Your presence. Your holiness before me makes me bow deep before You. It causes me to say, "I am unworthy!" Yet, even though I do this, You still love me enough to cleanse me for acknowledging my errors, my sins, and the sins of the people. I am nothing but a servant for You. Your name alone is great. You are my reward. You are my shield, and my portion. This alone is blessing enough to me. Keep me from those who desire my demise. Allow me to feast in their presence, Father. I want Your rest, Your peace in my life. Thank You, Jesus, for giving Your righteousness for my unrighteousness. All I ever want is You. In the name of Jesus, I pray. Amen.