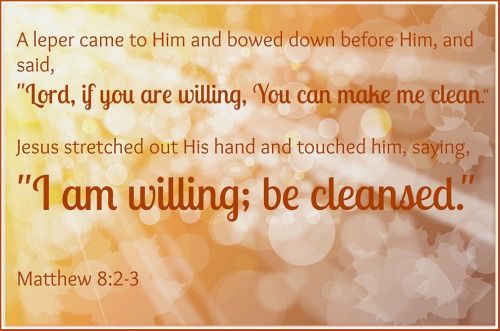 By Benjamin H. Liles
A man with a skin disease came to Jesus. The man bowed before him and said, "Lord, you can heal me if you will." The Jesus said to the officer, "Go home. Your servant will be healed just as you believed he would.
And his servant was healed that same hour. That evening people brought to Jesus many who had demons. Jesus spoke and the demons left them, and he healed all the sick. He did these things to bring about what had been written: "He took our suffering and carried our diseases [Isaiah 53:4]."~ Matthew 8:2, 13, 16-17
It is within my heart that Jesus heal my body from the ailment I suffer from, and have suffered from, since January 16th. Yes, I have still been sick and I believe it is time to go back to the hospital. But before I go I thought I would write an encouraging letter to let everyone know that you don't have to believe you'll remain sick the rest of your life. Everything passes in our lives -- sicknesses, body aches, headaches, what-not, you name it, not everything is permanent -- including our own passing from this very world.
By reading these selected verses those who were healed by Jesus received healing because they chose to come to Him in their faith. It was their choosing to do so. Was it unheard of? Yes. Was it unconventional? Yes. Was it radical? Yes! Who is this Jesus that sicknesses, diseases, and demons flee when He talks directly to them? "You are the Messiah, the Son of the living God!" Peter ansers (Matthew 16:16, Holman Christian Standard). When people in faith come to the Son of the Father everlasting things happen. These days it may come by a physicians hand, who has treatment available. It may come by someone laying their hand on you praying for whatever it is to come off of you. The result is the same. It is because you chose to believe in the Son.
But this goes a step further. The last two verses tell us Jesus did these things so that we wouldn't have to suffer long, that we would be free from disease. How is this done? Jesus went to the cross on our behalf. Why did He do so? Why can't we atone for our own transgressions against God? Jesus did this for two reasons that I see:
1) Jesus is the perfect and willing sacrifice. He was without blame. He was pure and without stain or wrinkle. Old Testament laws were written so that in Jesus all things would be fulfilled. When Scripture says, "Whatever has a defect, you shall not offer, for it will not be accepted for you" (Leviticus 22:20, New Amerian Standard), it means there is no way we can get God to accept us because sin in our lives. It is by "the precious blood of Christ, a lamb without blemish or spot" (1 Peter 1:19, Berean Study).
2) Jesus is God's Son. We read in Scripture, "I assure you: The Son is not able to do anything on His own, but only what He sees the Father doing. For whatever the Father does, the Son also does these things in the same way" (John 5:19, Holman Christian Standard). Jesus was born to die in our place. He was the perfect and blameless lamb, without sin, defect, or fault to do that which the Father intended to do. It was to restore to humanity God's righteousness. It is why the Father said of the Son, "
The Lord himself will give you a sign: The ·virgin [or young woman] will ·be pregnant

[conceive]

and will have a son, and she will name him Immanuel

["God is with us"]" (Isaiah 7:14).
We not only have access by and through our faith to the Father for what Jesus did on our behalf. We also have access to Jesus Himself. If -- not when, and certainly not intentional -- we sin we have a perfect go-between with the Father. "
If we confess our sins, He is faithful and righteous to forgive us our sins and to cleanse us from all unrighteousness" (1 John 1:19, New American Standard). He cleanses us from ALL things that keep us from being the righteousness of God. If mankind is the ultimate of God's creation, and Jesus is the crowning glory subjugating all powers, principalities, and against all manners of darkness (see Ephesians 6:12), then we also can be more than conquerors in this world before going home to the Father.
Let us do so by our faith and do our best to be without stain or spot. Let us be the child who has come home and we hear the charge, "Quick! Bring the best robe and put it on him. Put a ring on his finger and sandals on his feet" (Luke 15:22). But we can only do this when we choose life with God over a life of sin and hell. It goes far better and well with us when we appear before Almighty God in our best clothes, which He will provide, so we may be with Him forever. It is like Jesus told those who He healed, "From now on, sin no more" (John 8:11). If our desire is for God through our faith in what His Son Jesus did on our behalf then we do so not just by that same measure, but by remaining faithful in keeping away from evil. It is a continuous act until we are called home.
Father, You are able to heal all of us from our sins. I especially come before You asking You continue Your work in me that my wife prayed over me for the other night: for my health to be returned and restored. I may be sick here and now, but I know by Your might and power that You alone heal. If it means going back to the doctor or even the hospital to be well, fine. But it is still by Your hand and not my doing. It is by my faith that I know I am healed. All things pass in time, and so will this sickness I have had. I aske of You, Father, to heal those who need You and Your touch. Empower them. Encourage them. show them who You are by Your Son and keep them in You by Your Spirit. For all things that come through You are kept by You. In Jesus' name that I ask this. Amen.