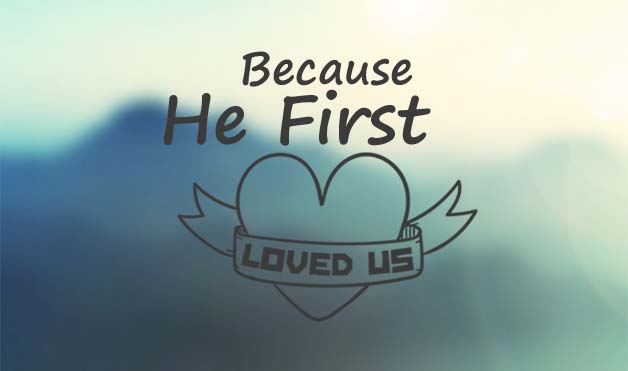 By Benjamin H. Liles
Dear friends, we should love each other, because love comes from God. Everyone who loves has becomes God's child and knows God. Whoever does not love does not know God, because God is love. This is how God showed his love to us: He sent his one and only Son into the world so that we could have life through him. This is what real love is: It is not our love for God; it is God's love for us. He sent his Son to die in our place to take away our sins.~ 1 John 4:7-10, Expanded Bible
I know it seems the Bible is contradictory about God's love. We read parts where God practically destroys his prized jewel Israel due to their disobedient, complaining hearts (see Numbers 16:30-32 and 21:6-9). But if you truly look at those passages and read them carefully within context God hates sin. He doesn't hate people. He never has hated us. He hates the pretense and outward look of what sin is in our hearts.
Think about the parent who teaches their child to do right. When the child does wrong doesn't that parent discipline their child out of love? Most good parents do. Parents who refuse to discipline don't understand the value of loving their child to teach them to do right at all times regardless the cost. Don't mistake me. I'm not writing this to be getting after parents or what their rights are. I'm attempting to show why God does what He does. We tend to do those things a child who does wrong due to sin in our lives. Sin affects both the heart and the mind, but it starts in the heart, producing strongholds and bad habits in the mind.
This isn't about destroying strongholds either. This is about God's love for us. I could liken this whole article about God's love toward us as that of both what God showed Hosea and then later as Jesus' parable of the Prodigal Son. God shows that the Israelites ability to turn away from Him terrible things would come to pass, and not always directly from God's hand. He tells Hosea that it's as if Israel plays the whore to nations due to aligning themselves with one power or another: either joining themselves to Egypt or to Assyria. It's like having an unfaithful spouse (see Hosea 1:2-9).
Even then, in those moments, God still has a deep and abiding love for them. "I will show pity to the people of Judah. I will save them, but not by using bows or swords, horses or horsemen, or weapons of war. I, the Lord their God, will save them" (Hosea 1:7, Expanded). No, rather God loves the people of Israel so much, He's saying, "I will save them in my way and in my time, not with anything human made." It's the same in terms of the Prodigal Son. He demands his inheritance, fritters it away to nothing; lives among the pigs and realizes, "I'm better off at home as a servant." And yet while a ways off, on returning home, the father sees his son coming back and he runs to him. He restores his son back to his rightful position (see Luke 15:11-24).
That's why I felt led to write this. Sin has a way of blinding us so far and so much we believe we can do fine without God. But we can't. Without God we have nothing. We may have the best of things with and because of Him. But things don't matter in the end. God cares about our relationship with Him. That's why in the end, while we were all still far off, God sent His Son to Calvary's cross to die in our place. It was His way of saying, "You can't come to me without me. You need a Help. You need an Advocate." Jesus the Messiah, the Christ, is our Priest. He is our Help, our Advocate. He stands before God and with us taking sin from us and declaring us as righteous as He is.
However, the only way that can happen is by realizing just as Israel and the Prodigal Son did that we have broken our relationship with God. It demands such a sacrifice of mercy on our parts that we can't hopefully fulfill. A life has to be taken for our behalf. It is why Jesus is called the Lamb of God. It is why He was offered up once and for all on our behalf. When we realize that we are God's people -- not just Israel alone, but the entire world -- and humble ourselves He can and will forgive us, restoring us back into His arms.
Read these words: "My people who are called by My name humble themselves and pray and seek My face and turn from their wicked ways, then I will hear from heaven, will forgive their sin and heal their land" (2 Chronicles 7:14, New American Standard). The only way back to God is through the blood of Jesus the Messiah, taking Him at His word that He is God's Son, and having the faith He can and will save (see John 14:6 and Romans 4:5). Jesus is the promise God speaks of in the Old Testament by way of prophets, priests, and teachers. We just need to realize we are wrong, God is right, and He desires us to walk with Him. Won't you come and trust in Him and His word?
Father, I thank You always for showing me what You do. You are holy and just. I realize I cannot ever stand in Your presence without being covered by the shed blood of Jesus. You tell us, "He has taken our sins from us as far as the east is from west" (Psalm 103:12, Expanded). I delight to do what You called me to as I know it's the right thing at all times regardless what I am going through. I feel it is my duty in love and obedience to the call You gave me to proclaim Your love and truth to others. You're not a God who destroys or hates. You are God alone, who saves from sin and death. The only thing You will destroy are sin, death and their works thereof. I wait for that day. In Jesus' name, I pray. Amen.