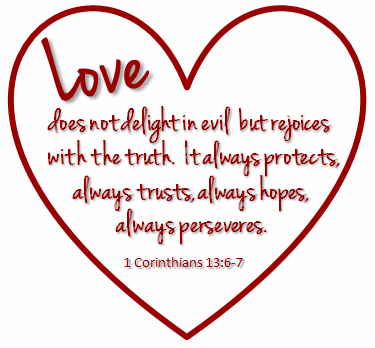 By Benjamin H. Liles
Love "does not rejoice in [causing harm to others by a lack of virtue; iniquity, sin, unrighteousness, evil, wrongdoing, injustice], but rejoices in the truth; bears all things, believes all things, hopes all things, endures all things" (1 Corinthians 13:6-7).
I admit I added a working definition, as well as other words used from various versions. I tend to use the New King James, World English Bible, Darby, Berean Literal and Study, and New American Standard. The reason I do so is to better understand what is being said in the verse.
With these verses on love lately, I have heard it said that you can tell if someone is right to be a spouse to you. Here's how -
Benjamin is patient. He is kind and is not jealous. He does not brag and is not arrogant, does not act unbecomingly. He does not seek his own way, and is not easily provoked. Benjamin does not take into account a wrong suffered. He does not rejoice in going around being malicious by lying, but rejoices by telling the truth. Benjamin bears all things, believes all things, hopes all things, endures all things.
This isn't so much acording to me, but since I identify myself with the person and divinity of Jesus the Messiah, my daily aim is to be more like Him. He forgave others where they were at. He healed people of disease, gave people back their sight, restored their ability to walk, speak, and hear. What is a follower of Christ if he or she doesn't model their life after what Jesus Christ did?
He said this, "Beware of false prophets, who come to you in sheep's clothing, but inwardly they are ravenous wolves. You will know them by their fruits. Do men gather grapes from thornbushes or figs from thistles? Even so, every good tree bears good fruit, but a bad tree bears bad fruit. A good tree cannot bear bad fruit, nor can a bad tree bear good fruit. Every tree that does not bear good fruit is cut down and thrown into the fire. Therefore by their fruits you will know them" (Matthew 7:15-20, NKJV).
A lot of Christians, including myself, who stand rightly with Christ always have to clean up the mess other "so-called Christians" make. Remember, Jesus said there are "false prophets, who come in sheep's clothing." Satan does his best work by invading the Church, distorting the truth for a lie, and doing (almost) irreparable harm to the actual body of Christ.
And that is the big issue here. Love, in it's purest form, will not water down the truth. It will not distort the love of God, or make Him out as a liar. False prophets are out, and even in the midst of the Church, to destroy the work of God. Namely they seek to change the heart of the believer from being changed by the power and majesty of Jesus the Messiah who died so we would no longer bear the punishment for our sins. No, rather they go out making God's word out to be something it isn't. They claim that "You can have this" or "You can have that" with empty promises. God tells us "I will never leave or forsake you" (Deuteronomy 31:6). It means no matter what circumstance we find ourselves in God is with us.
We all instinctively know who stands for what, who, and why, but it is up to all of us to work together and come to know the truth and showing the enemies lies for what they are. This is why it's so important to come to Christ. Do you want to remain in the dark, enjoying its pleasures for only a brief time? Do you enjoy in untruths? Do you want to remain in the veil of the shadow of death? I for one do not and it's why I do what I do day in and day out. It's not that I enjoy looking like I'm on a high horse.
In fact, I 'd much rather be at the same level as everyone else. I'm no better or worse than others. I just want the truth to be out there, showing the truth as it really is (love as well), and exposing the lie, sin, and death for what it is - separation from God, being without Jesus Christ. What is it worth by remaining in what is only temporary and fixable? There is a day that's coming where there won't be any way to turn around and belong to Him who made you in His image. Come now while you can. He, Jesus Christ, can set you free as long as you lay your burdens, sin, and all down before Him.
Father, I admit I don't have all of the answers. I just enjoy telling people the truth of You with Your word. I know I'm not altogether like You, though I desire to be. I may be creative like You, have feelings like You, have a Spirit because of You, and can communicate just like You do. But I'm not like You in the sense that I sin. I transgressed Your holy law. I break it when I replace things above You. I break your law when I dishonor my parents, my sister, or even my wife, or others for that matter. When you say, "Love your neighbor" it means that I am to uphold and give grace just as You give me grace. Help me more in this. I want to be more like You, Lord, and less like me. In Jesus' name I pray. Amen.