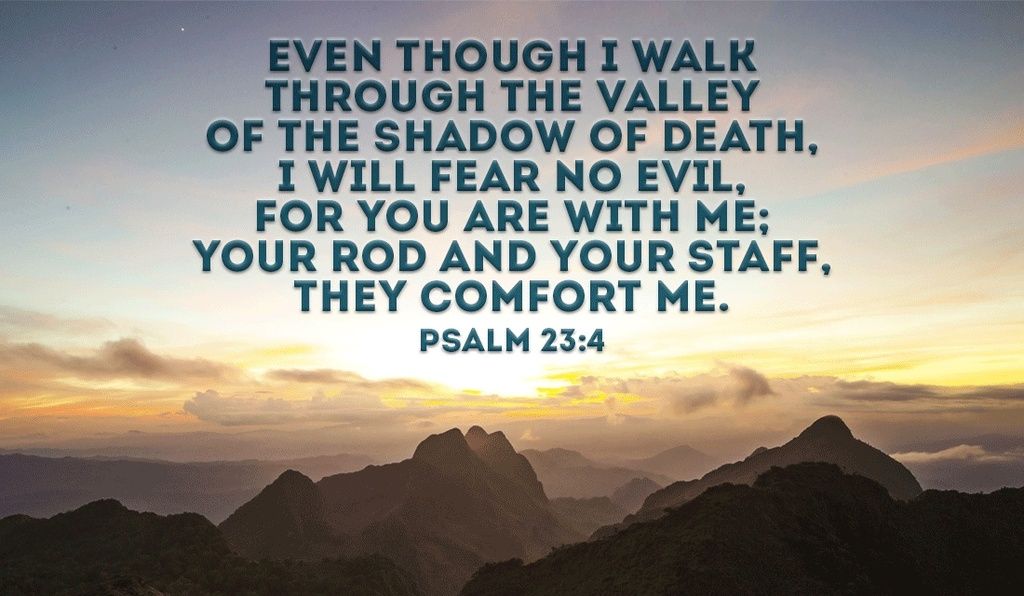 By Benjamin H. Liles
Even if I walk through a very dark valley, I will not be afraid for you are with me. Your rod [crook] and shepherd's staff comfort me. ~ Psalm 23:4, Expanded
As of late, I have been down these past few days with bronchitis. It has made me feel weak and powerless, at least in part, in the ability to both breathe and function as best I can.
And while I am not fully well, in trying to not get ahead of God, I wanted to take this time to join in the sufferings of my family. To be noted here, it's not the same kind of suffering others receive. In other parts of this world, a minister is being imprisoned for his faith; and in other, the faithful preacher is being beaten for preaching Jesus the Messiah.
So, where does this all land in terms of my suffering with the rest? Does it disqualify me even though I am not persecuted like those who put their lives on the line? I have labored over this thought a lot recently, and before I head into studying this verse and what it means, I do feel I am qualified. The reason is that the one who was imprisoned for their faith can easily become sick to the point of death, although they may still live. Also, the one being beaten for preaching the gospel could also easily get sick from being beaten, thus also possible being tossed into filthy and unsanitary conditions.
However, my being sick is due to it being flu season here. That's the only difference. I believe I caught a bad bug, not only which has kept me from opening scripture and declaring the Messiah, but ultimately that I needed a brief break. The writer of this psalm is letting God know that even though he is going through a hard time, he will allow God to guide and comfort him. What do these two things symbolize, the rod (which is most likely a crook) and the staff?
The shepherd's crook, according to Barnes' Notes on the Bible, "The 'crook' is said (see Rosenmuller, in loc.) to have been used to seize the legs of the sheep or goats when they were disposed to run away, and thus to keep them with the flock"(
Psalm 23:4 Commentary
). The staff is then the instrument that the shepherd uses to defend the flock from its predators, such as wolves, bears, and the like. David wrote, "The LORD is my light and my salvation; Whom shall I fear? The LORD is the defense of my life; Whom shall I dread?" (Psalm 27:1, New American Standard).
Then it is for the reason God remains with us, even in the midst of our struggles. We may not feel Him. We may not even see Him with our physical eyes. We have to see Him with eyes of faith. We have to believe He is hurting just as we are. After all, before Moses was sent to deliver the Israelites from Pharaoh, did not God hear "
their cries, and he remembered the agreement he had made with Abraham, Isaac, and Jacob.
God saw the troubles of the people of Israel, and he was concerned about them" (Exodus 2:24-25, Expanded)?
Even Isaiah said, "
They will not hunger or thirst, the scorching heat or sun will not strike them; for their compassionate One will guide them, and lead them to springs of water" (Isaiah 49:10, Holman Christian Standard). This compassionate One is Jesus the Messiah. For what did He tell the woman at the well? "
Whoever drinks of this water will thirst again,
but whoever drinks of the water that I shall give him will never thirst. But the water that I shall give him will become in him a fountain of water springing up into everlasting life.
You worship what you do not know; we know what we worship, for salvation is of the Jews.

But the hour is coming, and now is, when the true worshipers will worship the Father in spirit and truth; for the Father is seeking such to worship Him

" (John 4:13-14, 22-23, New King James).
It is through Jesus the Messiah that we are led by the waters of life. His rod and staff are the words with which the Father gave to Him. His staff is His arms, never closing and never delivering justice, but mercy and love. His rod is the word of the Father, which judges wisely and righteously. It is through this Jesus, who was crucified, who died in our place, was buried and now sits at the Father's right hand that guides us in this life. He helps us in those moments where we believe we cannot easily pass through. But He goes with us. He reminds us, "I will never leave nor forsake you" (see Deuteronomy 31:6).
All I know is that God goes with me, regardless of what I go through. My faith in Him, in His ability, His character are enough to help me get through those tough times, even now while being sick. I almost didn't want to do this today as I still feel very weak. But I am doing this because I believe I hear the Father telling me, "Now that you have rested, encourage my saints who are suffering." I may not suffer in the same way as you are at this moment, but believe me when I say God hears your cries. He is for you and with you. He will come through both for you and with you, in His time.
Father, I know You are holy and pure and true. You are too magnificent that when I see Your presence flashing forth from Your throne, I have to hide my eyes. "I am too impure," I cry out. And I am. You call out, "Who can I send?" All I can say, along with Isaiah, is "Here am I, send me." I may not know exactly how to encourage and build up Your people, who are scattered abroad, but You give me the words according to my faith. Go with me in this moment. Guide my feet in the way to go. Help me in giving Your people Your peace. For without You I can and am nothing. I pray in Jesus' name. Amen.