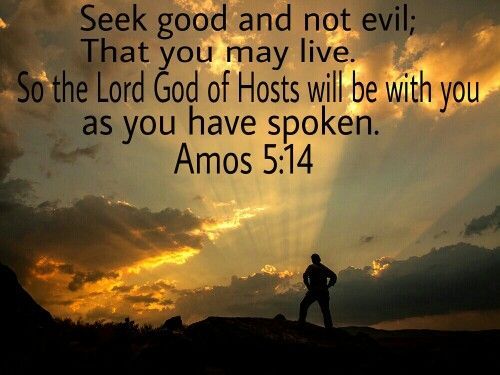 By Benjamin H. Liles
Seek good and not evil, that you may live. Hate evil, love good; establish justice at the gate. It may be that the Lord God of hosts will be gracious to the remnant of Joseph. ~ Amos 5:14-15, New King James
I was in the process of reading a commentary on the verse to gain a little insight while waiting for the picture file to upload. In the process, I find I like the way Joseph Benson comments on the verse. He writes, "Give your minds to the practice of true piety and virtue. Do that which is just and good, and endeavor to make others do the same. That it may be well with you, your families, and the whole kingdom. You have boasted of his being with you, you think he is with you and is bound to be with you, and own you: so he will indeed, but it is on condition that you repent and turn from your idols and violence" (
Amos 5:14 Commentary
, under Benson Commentary).
We even read by another of God's prophets, "Seek the LORD, All you humble of the earth Who have carried out His ordinances; Seek righteousness, seek humility. Perhaps you will be hidden In the day of the LORD'S anger" (Zephaniah 2:3). It reminds me a great deal of how Jesus lived His life while here walking among us. He went around, not making Himself better than anyone else. No, in sccriptures we find Him serving others. What's the point?
We see God's justice as rewarding each of us as we believe He should render justice to us. But if we hold to that idea, believing He is altogether like us, He would have to "reward" some of us according to what we have done on His behalf. Jesus says this isn't so. "
Listen to what the unfair judge said. God will always
give what is right to his people who cry to him day and night, and he will not be slow to answer them.
I tell you, God will help his people ·quickly. But when the Son of Man comes again, will he find those on earth who believe in him" (Luke 18:6-8, Expanded).
Actually, what is being said is that God rewards those who believe in Him, in His words, His holiness. These people not only fear God, but they respect Him, they revere and honor Him in how they live according to their faith. It's why God gave Amos a taste of who He is. He reminds Amos to "Seek good, not evil...Hate evil, love good...the Lord God of hosts will be gracious to the remnant of Joseph."
And this makes things confusing, to which of His people is God calling Joseph? If we go through scripture Joseph's children are Manasseh and Ephraim. What happened to them? Didn't they go into exile as they were part of the Kingdom of Israel? We're told, before the northern kingdom of Israel was exiled, "
He (Asa) gathered all Judah and Benjamin and those from Ephraim, Manasseh and Simeon who resided with them, for many defected to him from Israel when they saw that the LORD his God was with him" (2 Chronicles 15:9). So, if members of Joseph's family - Manasseh and Ephraim - fled the Kingdom of Israel for the Kingdom of Judah, then when we see the words given to Amos about God showing grace "to the remnant of Joseph" it means that those who remained in the Kingdom of Judah were spared the worse fate of losing their actual identity.
Think of it this way: you have to leave your home, suddenly in the night. You and your family are fleeing for safety to ensure you won't lose your identity of where you came from. Let's say you come from the land of Beduma. The land of Beduma is being invaded by their neighbor Dolag. These dolagites are rampaging, looting, stealing, killing everything in sight. But there's a sympathetic nation: Leduma. They have been on friendly terms for some time with Beduma. In fact, Beduma and Leduma are part of a bigger nation, Uma. Those within Beduma hear the king of Leduma speak. They hear him saying something to the degree of, "We know you are being invaded. When you come over to us, not only will we give you shelter, we will help protect your legacy. You will still be who you are, but we will treat you as one of our own."
Likewise, Ephraim, Manasseh, and Simeon were shown the same kindness in Judah, alongside the tribe of Benjamin. So, when these people go into exile into Babylon, not only are there Judahites, Benjamites, Simeonites going, but also Ephraimites and Manassites (forgive me I don't know the exact terms for the people of the different tribes of Israel, I'm guessing). The point I'm getting at is that a portion of Israel was spared as they ran for the Kingdom of Judah. So, when we see Amos saying, "the Lord God of hosts will be gracious to the remnant of Joseph," I believe he's making the point "God be gracious to the remnant who chose Judah, rather than remain in the sins of Israel." In the end those in the Kingdom of Judah were under a different type of harsh type of judgment rather than either being destroyed or removed altogether from the land of Israel.
And that brings me to this whole point on God's justice. He will punish the people for their sins. He will break their bonds to idol worship, lust, adultery, greed, murder, theft, lying, and all. But at the same time, as long as they remain His, taking His chastisement, allowing to be rebuked, they will see His justice as for who God really is. He's doing this out of His character. He is trustworthy, faithful, just, true. He's not going to do things that are against His very nature. But He will do what He says He will do. For that reason, it is also why we have Jesus' words: "
But when the Son of Man comes again, will he find those on earth who believe in him?" (Luke 18:8).
I know we all go through a time of trouble, pain, despair, being unsure of what's going to happen next in our lives. We see the things going on in our world, wondering, "Lord, what's going to happen next? How will I feed my family? How am I? going to make it when so much death and destruction is going on?" If you're going through this, I am truly and terribly sorry for what's going on. I can't begin to comprehend your situation. What I can give is the love that's been given me, which I have found in Jesus. I can give you Him. I can point the way to Him. He is our bread of life. He sustains. He is also the wellspring of life. When I accepted Him as my Lord and Savior, I was saying, "Yes, I am this water of life." His Spirit is within me because of that. And this is why I can say as well that Jesus is the water of blessedness. He covers our sins, and He provides us with shelter. What more is there to want? I just hope and pray my inadequate words somehow help, and bring healing to you.
Father, You know far more than I do. You are far more glorious and holy than I will ever claim to be. All I can do is to be the kind of guy you command to "hate evil, do good." I want to continue walking in Your ways. If it means suffering some for Your sake, then I can do so. You are my joy. You make my life complete. I feel I need to do more, that much is true. But You know I would do whatever You needed of me. I just hope that what You put on my heart and show me helps others who need it; who need You. I pray for all of this in Jesus' name. Amen.