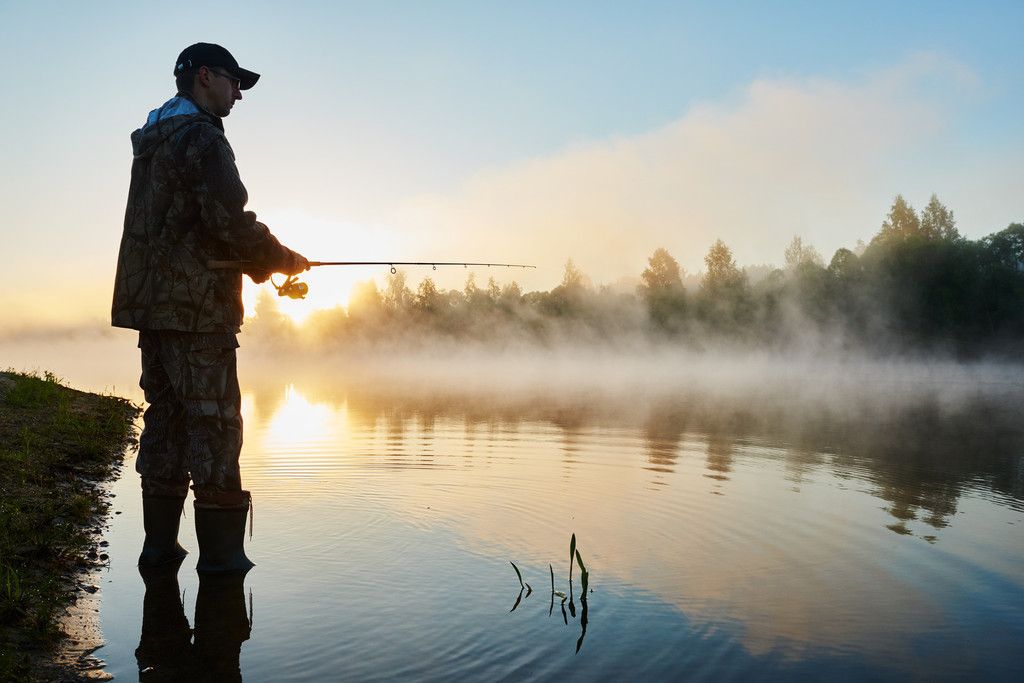 By Benjamin H. Liles
Therefore humble yourselves under the mighty hand of God, that He may exalt you in due time, casting all your care upon Him, for He cares for you. ~ 1 Peter 5:6-7, New King James
I remember a few times in my life where I felt so worry-free and unburdened by things. I may never have liked fishing with my dad, but I enjoyed being with him.
To me, fishing was boring. I never could sit still enough for my dad to ever catch anything. We seemed to enjoy one another, however. At least that's how I remember those moments.
I know it's a far cry from what the verses are talking about here, but in the hustle and bustle of living life do you ever get so worked up and anxious that when you have a free moment you need release? That's the reason for the fishing story here. Who ever gets anxious or worked up while fishing, except maybe the fisherman who never makes a catch?
The point is we all have our own outlets where we work out for ourselves casting off what worries us. We find ways to cast off anxiety so that life is more manageable, bearable even. Jesus said, "
Come to Me, all you who labor and are heavy laden, and I will give you rest.
Take My yoke upon you and learn from Me, for I am gentle and lowly in heart, and you will find rest for your souls.
For My yoke is easy and My burden is light" (Matthew 11:28-30, New King James).
In the Expanded Bible, Jesus says what He does without the appearance of what the Pharisees are, which is why the people love Him: "Come to me, all of you who are tired and have heavy loads and I will give you rest. Accept my teachings and learn from me, because I am gentle and humble in spirit, and you will find rest for your lives. The burden that I ask you to accept is easy; the load I give you to carry is light" (Matthew 11:28-30, simple re-wording).
Jeremiah was given this word from God, "Stand where the roads cross and look. Ask about the ancient paths: which is the way to what is good? Then take it and find rest for yourselves." And that's the thing of it. Jesus is our rest if we just allow Him that right. He came lowly and humble, not imposing harsh living or even doctrines upon us. He upheld the Father's ways and entered into His allotment on our behalf. He took the punishment of our sins so we wouldn't have to bear any longer under the penalty or even remain burdened under the weight any longer.
Think on this a moment in a different light. Have you ever been around someone who believes the supposed same way as you do, and yet you hear, "Well, you're going to have to do this. You'll also have to do that. Oh, you'll need this. By the way, you'll also need that. Blah-blah-blah?" Jesus's whole point is there's no restrictions to learning His ways. There's nothing additional you have to do. Actually, if anything, His exact words are, "Lay your burdens down." Are you willing to try?
I'll put it one other way to show you the root of the problem with Jesus' words. Imagine that you have the wildest and most severe toothache you will ever have. You go to the dentist and all you hear from him is, "Well, you shouldn't have done this. You shouldn't have eaten that. Sweets are bad for you, likewise fruits. So, no more of eating those things." How much more worried and anxious will you be after being at the dentist's office? Then you meet the most unassuming doctor ever. Truth be told, this isn't any ordinary dentist. He's the Dentist. He looks you over, never gets after you, just simply asks, "Do you want me to get rid of that infection?" You simply nod your head. He numbs the spot, and fixes the problem at the root. Wouldn't you be thankful for what this Dentist has done? This is what Jesus the Messiah does for everyone; you and me.
He takes our cares, our worries, our anxieties, when we let Him. He takes it all upon Himself and He bears it all on the cross. He deals with the source of our pain when we're honest about them. He's the One who heals, restores, and revives. But we need to be willing to allow Him the right to bring healing to us. He can't do anything if we never allow Him. And if we don't allow Him the right to be in our lives, to be Lord over us, we will never see what it means to living for the Lord.
The reason I shared an old story about my moment with my dad fishing is that I also see God there. He was showing me how things could be if I simply put my attention on Him, giving Him the right to have my attention. After all, He tells each of us, "
Peace I leave with you. My peace I give to you. I do not give to you as the world gives. Your heart must not be troubled or fearful.
You have heard Me tell you, 'I am going away and I am coming to you.' If you loved Me, you would have rejoiced that I am going to the Father, because the Father is greater than I" (John 14:27-28, Holman Christian Standard). All you have to do is trust in Him who gave us Jesus, His Son, accept what He has done through and by faith, and live out that belief daily.
Father, I don't know where to begin. Except for looking to how holy and amazingly perfect You are. You overshadow anything that could harm or even perplex me. Nothing is bigger than You. There is no enemy to tall. There is no enemy who can withstand You. There is none like You, Lord. In You I have peace everlasting. Every day with You is calm, peaceful, wonderful, and bright. I never want to leave this place or this moment with You. I know it means going out into dangerous territory, but when I put You and Your works before my eyes, I can vividly remember, see, and taste all the goodness You gave to me back when. I tremble in Your presence, for I know I am sinful, but You cleanse me through Your Son, Jesus. Hold me ever close, Father. Never let me go. For where You are is where I most want to be. Thank You. In Jesus' holy and precious name. Amen.