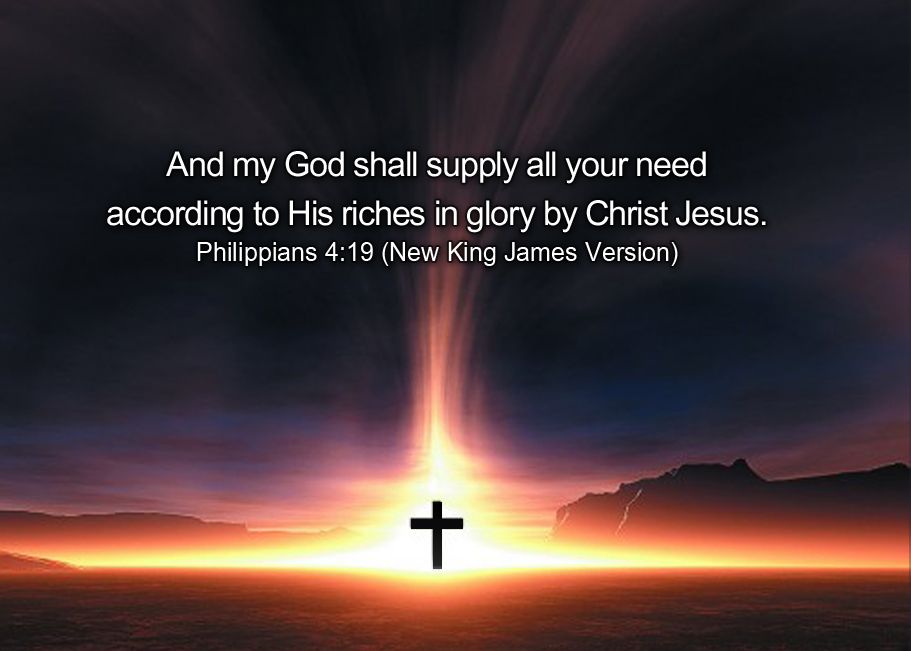 By Benjamin H. Liles
And my God will supply all your needs according to His riches in glory in Christ Jesus. ~ Philippians 4:19, New American Standard
Every single day that I live I experience something new, not only about myself, about God and His mercies. I have used the verse, "Be strong and courageous, do not be afraid or tremble at them, for the LORD your God is the one who goes with you. He will not fail you or forsake you" (Deuteronomy 31:6, New American Standard) a great deal. And I feel it has led to this article. You see, I may come across in my own marriage to my wife, Tanya, that I don't worry, but in fact I do.
We go through a great deal in this life. We worry about small things; the kinds of things that God looks at and says, to some degree, "I have that. You don't have to keep worrying." Jesus tells us specifically, "Therefore I tell you, do not worry about your life, what you will eat or drink; or about your body, what you will wear. Is not life more than food, and the body more than clothes? Who of you by worrying can add a single hour to his lifespan? Therefore do not worry about tomorrow, for tomorrow will worry about itself. Today has enough trouble of its own" (Matthew 6:25, 27, 34, Berean Study).
How does God maintain the promise He will never leave nor forsake you?
He does it by remaining near to us regardless of what we go through. I don't mean to come off sounding cavalier or even trite on this. Chances are you are going through some heady trials right now. It's possible your spouse is divorcing you, or you received news you are being laid off, or even so far as being told you have cancer. Where is God in all of that? How does He provide and keep His promise of being there?
Where was the Father the night Jesus was praying in the garden of Gethsemane? Was He close to His Son even then? I would say He was. "
And He was withdrawn from them about a stone's throw, and He knelt down and prayed,
saying,

"Father, if it is Your will, take this cup away from Me; nevertheless not My will, but Yours, be done."
Then an angel appeared to Him from heaven, strengthening Him.
And being in agony, He prayed more earnestly. Then His sweat became like great drops of blood falling down to the ground" (Luke 22:41-44).
The bad news you are getting has everything to do with you needing to be near to God. He is already there. Look again at the passage: "
Then an angel appeared to Him from heaven, strengthening Him." We would love to think the Son of God, Jesus, never needed the Father's strength or power in His life. Most would say He didn't. There's no truth to that.
Why? Jesus said, "
I am the true vine, and My Father is the vinedresser.
Every branch in Me that does not bear fruit He takes away;
and every branch that bears fruit He prunes, that it may bear more fruit.
You are already clean because of the word which I have spoken to you.
Abide in Me, and I in you. As the branch cannot bear fruit of itself, unless it abides in the vine, neither can you, unless you abide in Me."
"I am the vine, you are the branches. He who abides in Me, and I in him, bears much fruit; for without Me you can do nothing.
If anyone does not abide in Me, he is cast out as a branch and is withered; and they gather them and throw them into the fire, and they are burned.
If you abide in Me, and My words abide in you, you will
ask what you desire, and it shall be done for you.
By this My Father is glorified, that you bear much fruit; so you will be My disciples" (John 15:1-8, New King James).
If we look back at certain scriptures we see that God was providing a way for Abraham to believe in Him and His word. "
So Abraham took the wood of the burnt offering and laid it on Isaac his son; and he took the fire in his hand, and a knife, and the two of them went together.
But Isaac spoke to Abraham his father and said, "My father!" And he said, "Here I am, my son." Then he said, "Look, the fire and the wood, but where is the lamb for a burnt offering?" And Abraham said, "My son, God will provide for Himself the lamb for a burnt offering."
"So the two of them went together. Then they came to the place of which God had told him. And Abraham built an altar there and placed the wood in order; and he bound Isaac his son and laid him on the altar, upon the wood.
And Abraham stretched out his hand and took the knife to slay his son. But the Angel of the

Lord

called to him from heaven and said, "Abraham, Abraham!" So he said, "Here I am." And He said, "Do not lay your hand on the lad, or do anything to him; for now I know that you fear God, since you have not withheld your son, your only son, from Me" (Genesis 22:6-12).
We could say it was a faith and relationship building exercise between God and Abraham. But look again at what Jesus was going through the night of His darkest trial. Once again, the steps to Moriah were being taken. At first glance, the hilltop seems bare except for one man weeping in pain about what was to transpire. The sweat on his brow is thick and heavy, so much so that drops of blood hit the ground. He cries out in anguish, "Father, not my will, but Yours be done!" I wonder, what did Abraham think while Isaac and him walked that lonely path where Calvary would later stand? Did he have faith God would provide?
Recent news has been shared of a Hollywood actress going through cancer treatments. This actress has been battling breast cancer for quite some time. And yet she's kicking butt and taking names in regards to the rigorous treatment. I don't know for sure if she belongs to God, through Jesus our Messiah, but considering she was filmed dancing one day after chemotherapy radiation astounds me.
It seems that when things get tough we can either do one of two things: one, we can sit and sulk believing nothing will happen; or two, we can keep on doing what God commands us to do. He has given us His word, which is Jesus, who died in our place at the cross. All we have to do is take Him as He is and live our lives the way He did through Jesus. Okay, the mountain is too high, I get that. Some times, with the right tools, you can dig through it - but at least it can be done (not saying this as if it's our work, the work belongs to Jesus, He just shows us how to do it, proverbially). But the whole point is God, the Father, is there with us all through it and even past the end.
Father, You provide so much and I feel I'm not even grateful enough for what You have done and still do for me. Your ways are so high and mysterious, who can assuredly know them? I can't begin to understand You, Your mercy, Your love, and Your patience in the least bit. I don't know how things work out, but they seem to always work out and in Your timing. I don't have to worry about anything. You got this. It's my part to believe You, Your word, and remember all the times You came through for me. With that in my heart and mind I praise You for the wonders You have done and will continue to do in and through my life. In Jesus' name, I pray. Amen.