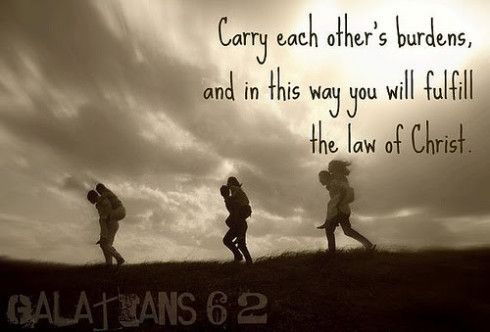 By Benjamin H. Liles
Carry others burdens, and in this way, you will fulfill the Law of Christ. ~ Galatians 6:2, Berean Study.
I realize that it isn't always easy to bear with each other. We all, at times, get on the bad side of people. Just yesterday, while I was studying God's word for myself, I found myself getting annoyed with my wife, Tanya. When I looked at how I was acting and talking to her and matching up my own personal walk with Jesus it became clear to me how far off I was in incorporating Romans 12:1 in my life. Paul writes, in that verse, "
Therefore, brothers, by the mercies of God, I urge you to present your bodies as a living sacrifice, holy and pleasing to God; this is your spiritual worship."
Walking with Jesus isn't an easy task. But loving Him as well as others is a must. We may get annoyed, and even frustrated, but it goes a long way to humble ourselves, falling on the sword (so to speak), to do the right thing in fulfilling God's word in our lives. Remember Jesus said, "By this, all people will know that you are My disciples if you have love for one another" (John 13:35, Holman Christian Standard). It means putting others before our own needs.
In fact, John, in another letter, penned the words, "
Anyone who says, "I am in the light," but hates a brother or sister, is still in the darkness.
Whoever loves a brother or sister lives in the light and will not cause anyone to stumble in his faith.
But whoever hates a brother or sister is in darkness, lives in darkness, and does not know where to go because the darkness has made that person blind" (1 John 2:9-11, Expanded).
In Love Mercy and Walk Humbly I wrote, "
Love. It passes the test of what the Ten Commandments talk about. First, it shows how we are to love and worship the God of the universe. Secondly, we're told how to love our neighbor. Violation of any of these two commands means we break the whole of the law." This tells us by itself that we ought to be willing to go the long way with someone in order to fulfill God's command.
Some time back I wrote, "
I love how Jesus put it when the disciples asked him how they were to pray the Lord's Prayer, '
And forgive us our sins, for we also forgive everyone who sins against us. And lead us not into temptation' (Luke 11:4, Berean Study). It wasn't that long ago I felt led to write these words, 'I also wonder how much we can actually bless one another with the gifts with which we've been given? And what about sustaining one another in faith? I mean we can use our words to heal and bless' (
Healing Ties that Bind
)" (
Forgiving One Another
).
The whole of all of this is to say that when we love one another, fulfilling God's commands to bear with one another, it means we lift each other up in prayer. Whatever needs someone has, let's meet those needs head on. Let us take a proactive choice to better someone else at our own expense. If someone is hungry and is in need of food, take them some food. If someone needs help paying a bill, help them out if you have the means. None of us is perfect and yet Jesus gave the ultimate in loving us. He bore our burdens at the cross.
If it means being a witness to the majesty of what Jesus did for us, then we ought to do the same, lay our own lives down so others see the glory of the Father. It is by this that Jesus went to the cross. It wasn't just to forgive us our debts or even to provide us with daily bread, it was to present us blameless and pure before the Almighty Father, the King of Glory. It is why we read, "He has now reconciled you in His fleshly body through death, in order to present you before Him holy and blameless and beyond reproach" (Colossians 1:22, New American Standard). By bearing with one another we fulfill more than God's command, we crucify our own natural and selfish tendency to be in the spotlight. God takes the credit as He should.
Father, You are so holy and far above me I don't always understand or comprehend just how majestic You truly are. Your glory fills the skies. The earth is filled with You. If Heaven is Your throne room, then the earth is Your footstool. I kneel before You extending praise and reverence to You for forgiving me my sins, which are many. Help me this day to do Your will. Allow me the right to bear with others, no matter the cost. Help me in and with my pride. I want less of me and more of You so that You are seen in and with me. In Jesus' name, I pray. Amen.