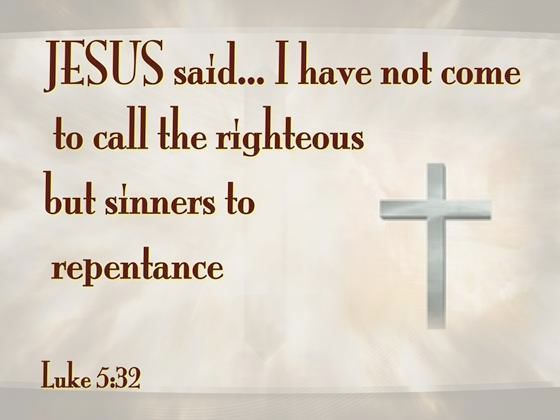 By Benjamin H. Liles
I have not come to invite
[call]
good people
[the righteous; meaning the "self-righteous" who feel no need to repent]
but sinners to change their hearts and lives
[repentance]
. ~ Luke 5:32, Expanded
The first thing I want to do before diving into this passage today is to thank everyone who has prayed for my health. It has gotten steadily better, if not quite fully well, over the past few days. So, thanks to all who have been praying. Also, thanks for praying for my wife Tanya as well. She has been sick with the flu for about a week or so and she's also doing better. And that leads us into this message. Jesus is saying, "I have not come to call the righteous but sinners to repentance" (Luke 5:32, New American Standard).
What He is saying is that He cannot and will not help those who claim they are fine and dandy all on their own without Him. What's more black and white than that? It's a lot like leading a horse to water. You can't necessarily make him or her drink water without killing it. And that's the whole point as I see it. All we can do is to point people to Jesus the Messiah, claiming He can heal them, but it's ultimately their choice as to what to think of Him and whether or not to join Him in a relational way as well as making Him the topmost priority in their lives.
Let me see if I can put it in a way that it makes sense: I love my wife, Tanya, very much. I go out of my way for her as much as I can daily. We may have our moments where we bicker and argue, but we love each other enough to keep working things out.
Where are you going with this?
I make it evident as possible to her that she is more important than myself. How you view your status with God in the flesh, Jesus the Messiah determines the importance He has in your own life.
In Mark's gospel, Jesus says it this way, "It is not the healthy who need a doctor, but the sick. I have not come to call the righteous, but sinners" (Mark 2:17, Berean Study). Unless you see yourself as in need of a healer you will not get help at the root of the problem. You believe you have a problem seeing? Jesus can help you with seeing things better. Do you think you have a problem in hearing? Allow Him the right to take care of the ability to listen. You have a problem staying on the straight and narrow when it comes to alcohol or drugs? He can heal you of the lameness in your feet and legs. We all have a problem with something. And Jesus can meet you at your need.
In fact, Matthew records Jesus saying, "I desire mercy and not sacrifice. For I didn't come to call the righteous, but sinners" (Matthew 9:13, Holman Christian Standard). If we need something from Jesus, we need to seek out extending mercy as well. If we want His mercy, we ought to be merciful as well. We can't sit idly by and just be mean-spirited thinking, "Oh, Jesus will heal me, even though [so and so, insert name here] did this to me." No, it doesn't work that way.
Some time back, within the article
Being Faithful in Forgiveness
, I wrote, "
Not only has He commanded we love others as He loved us, as evidenced in the sacrifice the Messiah rendered at the cross. But we are to be called His. As His Church, His people, we are to model the very things He has shown to us." And it is said that we are "
to love Him with all your heart and with all your understanding and with all your strength and to love your neighbor as yourself, which is more important than all burnt offerings and sacrifices" (Mark 12:33, Berean Study).
Not only is it important to have Jesus the Messiah at the top of our priority list, but we ought to keep working our best at living lives that show our hearts are changed. Peter wrote, "Above all, maintain an intense love for each other since love covers a multitude of sins" (1 Peter 4:8, Holman Christian Standard). The hallmark of a follower of Jesus, a true disciple of the risen Christ, is love for others. It is more than simply a changed heart; it is a way of life that extends mercy and grace where He has given us much mercy and grace. This is the call to sinners. It is to show the way into His Kingdom, which is so readily available to all who desire more to this life.
Father, You reign in Heaven above, extending Your holiness to us. Allow me to always be a beacon of hope, of encouragement and love, in order that others may see You for who You are. You may discipline us when we're in the wrong, but You show merciful kindness to generations beyond us. Give me just enough of You for today that I can be as much a blessing to someone who needs You. Let me be a lamp as You are a lamp to me, keeping my way lit so I may not stumble. Lead me in Your ways, and protect me when I need it. I also pray for those You hold dear. You know everyone by their name. Call out to them. Heal them. Guide them into Your love and truth. I pray this in my Messiah, Jesus' name. Amen.